Lorraine over at Fabulous Fourth Grade Frogs had a great idea to create a linky party for 3-5th grade blogs! I know that sometimes it is hard to find blogs for the upper grades, but there are TONS of people already linked up!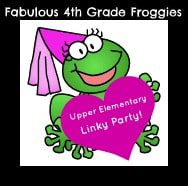 I know what I will be busy doing for the next few hours!
My next two projects are Area AND Perimeter Tic-Tac-Toe (students will have to determine whether they are finding area OR perimeter) and an idioms supplemental packet!