I recently posted that I would be returning to Geometry in math after the break because I didn't feel my students had a real grasp of the terms. Thank you so MUCH for all the comments! They were so helpful! I started creating a few activities…and then one thing led to another and another and another. Before I knew it, the unit was almost 80 pages long?! It is just supposed to be SUPPLEMENTAL, Mandy. Sheesh. But I like geometry and it is easy to do LOTS of things with it. Plus, so much of elementary geometry is vocabulary based and many students have difficulty with this.
I am not quite ready to post it yet. I still have to do some editing and send it to my friend (Hi, Katie!) who does an AWESOME job of editing for me since I am terrible at editing AND typing, but I thought I would show a "sneak peek."
This packet includes vocabulary cards, a student dictionary, three games, two sorting activities, two creative art projects with rubrics, and a short assessment.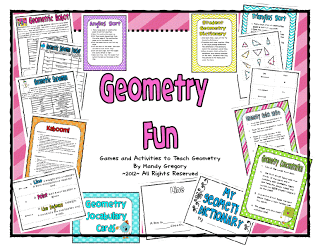 I am hoping to have it posted by the end of this week!
It will also be a choice for our BIG, AWESOME giveaway! Have you entered yet? : )
For those back to school; good luck! I hope you have a wonderful first day back! I am so grateful to be on break until the 9th. I have been sick for most of the break : ( and hope to start ticking things off my to do list now that I am feeling better!