I just finished updating my End of Year Pirate Unit. I have done my best to make this an engaging cross- curricular unit. Kids are busy and I can finish up my work. It is a win-win situation!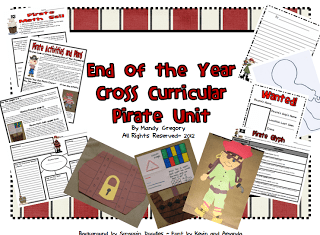 I wanted to share the other things that we did with this unit. Watch out for a bunch of FREEBIES ( my favorite F word!)!!!
We did a huge pirate presentation the last day of school. We performed the readers theater How I Became a Pirate by Melinda Long and David Shannon. We performed the play for parents and the entire second grade.
About two weeks before the presentation we sent home these invitations. I did not create the wording. I found it on the Internet and tweaked it as needed.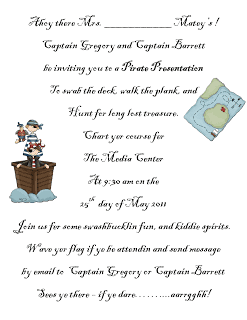 A blank template version is included below for download.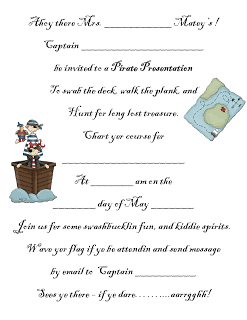 We practiced and practice the readers theater a million times. I wrote the play so that all students could partipcate in the class. I also considered readability levels for students that struggle in reading. The kids worked SO hard and were FANTASTIC!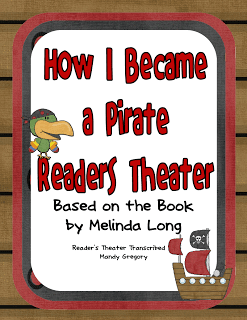 I transcribed the book and added a few parts and words to make it flow better as a readers theater.
I copied some of the pictures out of the book and then outlined them with a black sharpie. Then I traced the picture and copied the traced picture on a transparency. I projected the traced image onto large sheets of butcher paper. Students traced the projected images and then painted them with tempura paint. We hung the pictures as backdrops behind the students during the readers theater performance. The kids LOVED doing this.
For costumes I bought the $5 white and red twin flat sheets from Wal-Mart. I chopped the sheets up (it is cheaper than the fabric store in my humble opinion!) and used the fabric to create bandannas for the boys to wear on their heads and scarves for the girls to tie around their waists. We asked kids to wear their most "pirate-y" outfit like red and white shirts and jeans or jean shorts. We finished the look of with Mardi Gra ( I have no idea how this is spelled and I am too lazy to Google it. So sorry!) beads.
After the performance we invited parents and families back to the classroom for refreshments and awards. We served food with a pirate theme and used a simple red table cloth. In front of each of the foods I put up these cards to keep our pirate theme going.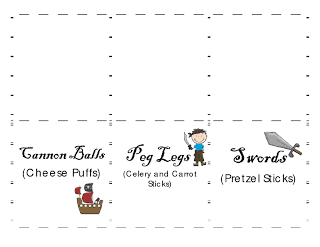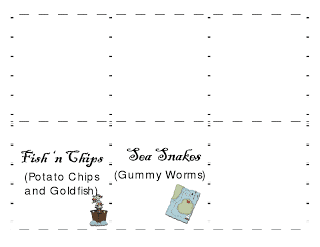 The End of Year Pirate Unit includes reading, writing, and math craftivities that are wonderful decorations. I posted all of the students work around the door to the Media Center to get parents and the second grade audience in the "mood" for some pirate fun!
Tomorrow I will share a few MORE pirate activities that we did last year and will also do this year to celebrate the end of the year!