My husband cringes when I say that. But it makes me so happy. Even my little not-even-two-year-old daughter says "soppin'!" with excitement! Must be genetic…
I found a couple great things in the Target Dollar Spot.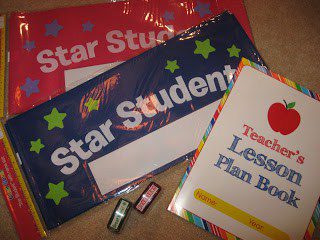 I found these two cute Star Student chair pockets. I got a blue and a pink one. I have no idea how I will use them. I used to do a weekly Star Student but stopped over time. I have no idea why! Maybe I should start it up again?
The lesson plan book is not actually for my lessons- we submit these online. Instead I read on someone's blog post (oh no- I can't remember who! If you know who it is please let me know so I can give them credit!) that they used it to record reading and writing conferences. Each child got a box (where a teacher normally writes a lesson for a subject area) and the teacher recorded notes in the box. Even if I don't do this, it was only a dollar!
The two itty-bitty rectangles are self inking stamps that say "Great Work!" and "Excellent!" Not bad for $5!
I mentioned earlier that went to IKEA this past weekend. I have been contemplating buying another rug for the front of my classroom. We have two meeting spots- one in the front of the room and the other in the back. I wanted a rug to define it. My old rug was starting to look ratty so I was considering getting rid of it. I was having a hard time swallowing the $300 cost of an educational rug. That is A LOT of money!
When walking around IKEA, I saw this beauty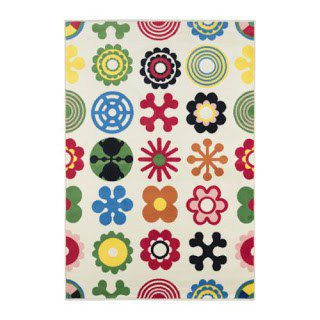 I immediately dismissed the idea because the background is a creamy white. What idiot would buy a creamy white rug for a classroom? Well, apparently this idiot would! When I saw the price tag, I was hooked! For only $40 for 6 and a 1/2 foot by four foot rug, I felt I could clean it or even get rid of it if it got too bad. Now I am thinking of going back and getting ANOTHER one so both carpets match, but I want to wait until I see them in the space.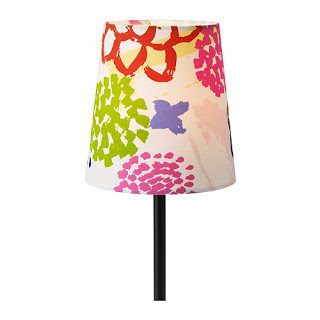 There is even a lamp shade to match-gah! For five dollars! Too cute! I foresee another trip to IKEA soon….
I have *finally* finished by back to school unit! Yay! Yahoo! PTL!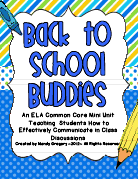 I am very, very proud of this unit because it incorporates some fun, cute getting to know you "stuff" with procedural lessons ALL while meeting Common Core Standards. Talk about bang for your buck! I wrote the unit to teach students HOW to talk in partnerships and HOW to talk in whole group discussions. I am hoping that the unit will cultivate a classroom in which students share and discuss rather than take turns like machine gun fire with their opinions. Even in second grade.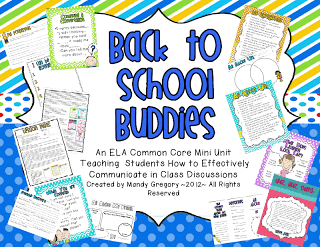 Here is the description of the unit:
The purpose of this unit is to teach students how to effectively engage in class discussions after developing a class set of norms. Please note that the lessons are not listed by day. Instead, the lessons are listed in numerical order. When I teach these lessons in my second grade classroom, I will teach one mini lesson, give students an opportunity to practice listening and speaking skills with the provided activities, and then teach another mini lesson. Although the mini unit is six lessons long, I hope to teach the unit in less than a week. The lessons included three picture books: Listen, Buddy by Helen Lester, Howard B. Wigglebottom Learns to Listen by Howard Binkow and Mr. Chatterbox by Roger Hargreaves.

I also developed this unit with another purpose in mind. Unfortunately, the sad reality of teaching involves large amount of data collection. I am hoping while students work in partnerships or on independent activities to complete the necessary beginning of the year paper work and data collection.

This unit includes:
*6 mini lessons with correlated Common Core Standards for 2nd and 3rd grades
*Printable anchor charts for each mini lesson
*3 Listening and Speaking Posters
*One class book idea
*Two partner activities (Pal Ponderings and All About Us) for students to practice listening and speaking skills

Additional Activities to Supplement the Unit include
*The partner game Quiz, Quiz, Switch
*The writing activity, All About My Friend ______, which is differentiated by difficulty level.
*A Comparison/ Contrast writing activity that can be differentiated by providing the given text frame
I will be giving away TWO copies of the UNIT FREE to the first two people that guess what my daughter and I did this morning. I love it as much as she does- and it is not "soppin!" If no one guesses correctly I will randomly choose two comments Thursday evening. Please make sure to leave your email address 🙂