Hello to all Georgia bloggers (and blog followers, too!)!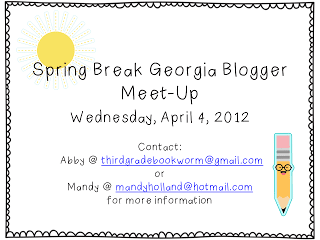 Abby from Third Grade Bookworm came up with this fabulous idea and contacted me! How about a meet n' greet? I know there are several Georgia bloggers and I bet there are even more blog followers! To my understanding many Atlanta Metro counties will have their Spring Break scheduled for the first week of April. We are putting together a get together (love the repetition– can you tell it is late and I am getting slap happy?) on Wednesday, April 4th at 1:00 in the Perimeter Mall area. All Georgia bloggers or blog readers 🙂 are welcome! If you would like more information please contact me at mandyholland@hotmail.com or Abby at abbyspann@gmail.com.
We hope to see YOU there!