Today was my first day back to school! This week is our preplanning and students will arrive next Monday. The summer FLEW by, but I am ready for a routine and a brand new year! I LOVE, LOVE, LOVE setting up the classroom! It is overwhelming, but so many possibilities are buzzing in my head.
I found this adorable idea on the blog First Grade and Fancy Free. I cannot take credit for the original idea, I just modified it for third grade.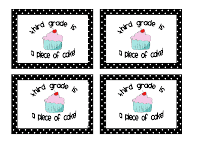 I am going to staple the "Third Grade is a Piece of Cake" to a Ho-Ho and leave them out on Friday (last day of the first week) so that when students return from specials they can eat them (this is only a few minutes before the end of the school day).
I thought they were so cute! If you would like a different grade level other than third, please post and let me know!
The adorable borders are the ones I mentioned before by Karen Cox at PreKinders. If you would like a copy of the blank templates, check them out at her Teachers Pay Teachers page for FREE!