I hope the title of this post is not to misleading. See…there is a story attached to this post. And to get to the give away you have to read the WHOLE, LONG, DRAWN OUT thing. With big shouty capitals.
Do you like Erin Condren? She has absoulutely beautiful stationary, calendars and planners.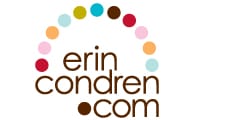 A few months ago a site called Plum District was running a deal where you paid $25 and got a $50 Erin Condren gift voucher. I used the voucher to buy a planner when they were 50% off. I am so totally cheap. Somehow I managed to have about $20 still left. At least I think the amount left over is $20 since I emailed myself a reminder that I had $20 left. It may be $18.75. My email-to-self-reminders aren't too detailed. I know, how did I not spend every dime and then some? I must have had a temporary black out. I have no idea what happened.
I have no need for any other Erin Condren products at this time and I am super cheap. So I am giving away the voucher code. HOWEVER, and this is a big, shouty, important however. The deal will expire on Monday, September 17, 2012 so I am assuming you must use the voucher by Sunday the 16th.
So I am offering it to you. Leave a comment below with your email. If you are not following and would like to, feel free to join the party, but it is not a requirement or rules. I teach all day. Rules after 8pm make me tired. I will randomly select someone on Thursday, September 13th.
Now that wasn't too long or bad, was it?