Hi All! A couple of years ago I made a worksheet called "Digging Through the Dictionary." After working with my group this year I am anticipating that it will not nearly be enough to practice this skill. So…I took that worksheet and just added to it. I added about 3 activities to the worksheet to create a packet.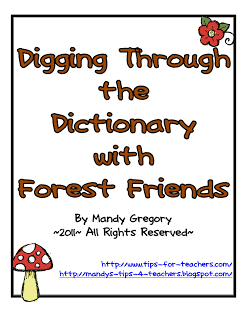 I added two alphabetizing activities. They are differentiated so students can alphabetize to the first and second or the third and fourth letter. However, the activity looks the same to students (minus font color for teacher organization) so students will not realize the difference.
Another activity is a guide word activity. Students are given guide words and need to decide which of the given word fits with in the guide words. This one is not differentiated.
The last new activity is an activity where students draw cards out of a bag and use a dictionary or dictionary knowledge to answer.
The last activity in the packet is the "old" worksheet.
If you bought the original dictionary worksheet please make sure to go and download the revised version. You are getting a deal! The original worksheet was only a dollar! So go make sure and get the new one :)!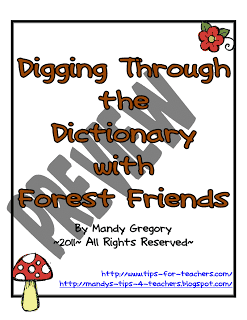 I am selling this packet for $4.00 in my TpT store.
However, I will give away 2 copies to the first two comments. Enjoy!
Starting on Tuesday I will post the first in my guided reading series. This post will be the actual flow of a guided reading lesson. I hope it is helpful!!!