This week we are studying contractions- specifically contractions with will and not. We watched the Between the Lions video on contractions. I love that one! It is so cute!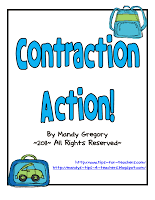 I created a few games to go with this unit. Initially I was going to sell these, but I feel guilty because I feel like my blog posts have focused too much on what I am selling : (. I hate it when people do that. So here is a freebie! Here is the information from the description page:
The first game is a simple activity that would best work with white boards. Students draw cards and a partner tells them the word to draw and then the partner checks their work. Simple but engaging due to those white boards!
The second game is a Kaboom! game that has students identify the two words that make up the contraction.
The third game is a concentration game matching the contraction to the words that make up the contraction. There is a recording sheet to practice spelling and writing the contractions.
The fourth game is a "Band Aid Contraction" activity. Students build the two words and then use a band aid clip art picture as the apostrophe to "knock out" the letters. There is a recording sheet for this activity as well.
These games are perfect as partner activities!
Feel free to download and use. If you download it please leave me a comment ! I big puffy heart them!